Posted by: OneEye Jun 29 2009, 09:09 PM
http://itunes.apple.com/WebObjects/MZStore.woa/wa/viewSoftware?id=319822953&mt=8

Super Collider is a fast paced, challenging, finger twisting, action arcade game for the iPhone and iPod Touch.

The Challenge...
Defend the existence of the known universe by maneuvering a particle of antimatter inside a super collider experiment gone wrong.

During a cutting edge, antimatter experiment, the super collider chamber has been contaminated by highly charged particles of matter. When matter and anti-matter collide, the result is total annihilation!

The world's smartest scientists and most powerful computers have failed and now they have placed the collider on full manual override, giving you total control.

To save the planet you must swiftly and deftly control the experimental anti-matter particle while avoiding all the charged matter within the chamber. You will face many obstacles and challenges along the way, but failure is NOT an option.

Good luck!

Features:
• An iPhone/iPod Touch exclusive release! The game was designed around the powerful touch system of the iPhone/iPod Touch
• Simple to play, yet hard to master! All ages can enjoy!
• Incredible physics simulation!
• Original heart pounding musical score, by Voodoo Highway Music.
• Unlimited rounds!
• Automatic saving of your game. Never miss a moment of action due to a pesky phone call or visit from the boss!
• High scores!
• Facebook integration, share your high scores with your Facebook friends and family.
• A variety of unique and useful power-ups.
• Fantastical obstacles such as Black Holes, White Holes, Repulsars and Charged Walls!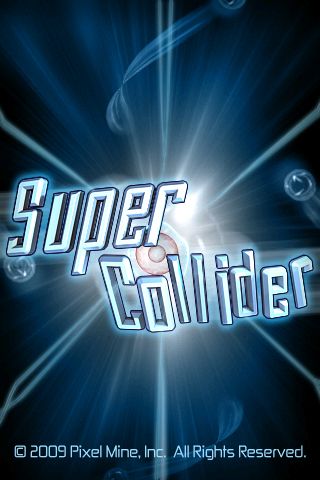 Posted by: Just a Guy Jun 30 2009, 01:32 AM
ermm, i hope they are pro's at this when they build one IRL.

Posted by: Ghost of Choice Jun 30 2009, 10:51 AM
I got a chance to play this game recently, and it's pretty compelling stuff; I could feel the lurking complexity sneak up on me as I played; I just hope people won't try to play this while driving in heavy traffic. heh.

Posted by: GrayFox Jun 30 2009, 12:12 PM
I was gonna download it during lunch, but its over 10MB so i have to wait till i get home to connect to wifi
Posted by: GM Anduin Jul 1 2009, 02:55 PM
I had to do the same thing yesterday gray, have to say I'm not disappointed. I really enjoy this game, it's simple yet very addicting and in the later levels takes so much strategy and attention that my little sheep brain exploded, twice.